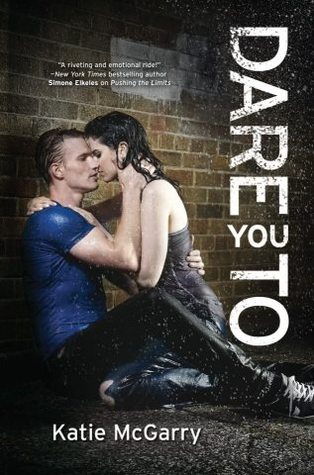 Genre:
YA Contemporary
Format:
Kindle
Publication:
May 28, 2013 by Harlequin Teen
Cover Rating:
3/5 Stars
Links:
Goodreads
,
Amazon
,
B&N
,
Book Depo
From Goodreads:
Ryan lowers his lips to my ear. "Dance with me, Beth."
"No." I whisper the reply. I hate him and I hate myself for wanting him to touch me again....
"I dare you..."
If anyone knew the truth about Beth Risk's home life, they'd send her mother to jail and seventeen-year-old Beth who knows where. So she protects her mom at all costs. Until the day her uncle swoops in and forces Beth to choose between her mom's freedom and her own happiness. That's how Beth finds herself living with an aunt who doesn't want her and going to a school that doesn't understand her. At all. Except for the one guy who shouldn't get her, but does....
Ryan Stone is the town golden boy, a popular baseball star jock-with secrets he can't tell anyone. Not even the friends he shares everything with, including the constant dares to do crazy things. The craziest? Asking out the Skater girl who couldn't be less interested in him.
But what begins as a dare becomes an intense attraction neither Ryan nor Beth expected. Suddenly, the boy with the flawless image risks his dreams-and his life-for the girl he loves, and the girl who won't let anyone get too close is daring herself to want it all...
My Thoughts:
Okay, so I have been in a
major
book funk for the past two months. I couldn't seem to finish anything I read and it was driving me crazy. Nothing was capturing my attention... until last night when I ran across
Dare You To.
I'll be honest, I was skeptical. Not because I don't absolutely love Katie McGarry, but just because my book funk was
that
bad. So there I was, 8:30 pm with my husband already fast asleep on my right, and this huge rolling cloud of defeat already starting to hang over my head when... BAM I became sucked into Ryan and Beth's story. Before I knew it, it was 3:00 am and I was feeling elated that I had just read (and FINISHED) one amazing story. It was like having my back popped after sitting stiff for days.
I fell in love with these characters and their story. I could so easily relate to Beth and her issues with her mom being her responsibility. Mrs. McGarry just wove that relationship so perfectly. And the chemistry between Ryan and Beth? It was magical and real and just so, so wonderfully done. What I really loved about this story though was simply Beth herself. She has quickly been labeled one of my favorite heroines and I'm not likely to forget her anytime soon. She was just so
real
and not like your average
I'm-so-damaged-I-can't-trust-anyone
MCs. Because while reading her story, you can actually
feel
that she has been damaged almost beyond repair. You're heart breaks for her and your fingers get all tingly because you know this girl has gone through some serious stuff. Books like this just show that the YA Contemporary Romance Genre are worth so much more than what some people give it credit for.
Bottom line? I would absolutely completely recommend this book!
My Rating: