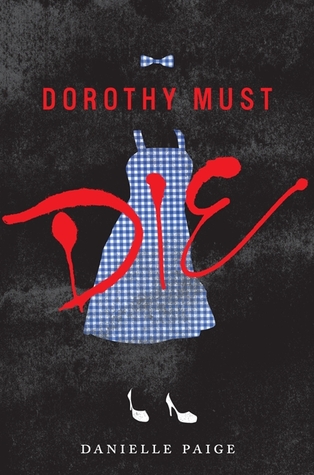 Series:
Dorothy Must Die #1
Genre:
YA Fantasy/ Retellings
Format:
Kindle
Publication:
April 2014 by Harper Collins
Cover Rating:
3/5 Stars
Links: Goodreads, Amazon, Barnes & Noble, Book Depo,
From Goodreads: I didn't ask for any of this. I didn't ask to be some kind of hero.
But when your whole life gets swept up by a tornado - taking you with it - you have no choice but to go along, you know?
Sure, I've read the books. I've seen the movies. I know the song about the rainbow and the happy little bluebirds. But I never expected Oz to look like this. To be a place where Good Witches can't be trusted, Wicked Witches may just be the good guys, and winged monkeys can be executed for acts of rebellion. There's still a yellow brick road - but even that's crumbling.
What happened? Dorothy.
They say she found a way to come back to Oz. They say she seized power and the power went to her head. And now no one is safe.
My name is Amy Gumm - and I'm the other girl from Kansas.
I've been recruited by the Revolutionary Order of the Wicked.
I've been trained to fight.
And I have a mission.
My Thoughts:
Dorothy Must Die
has to be my least favorite fairytale retelling that I have ever read, and I had such high hopes for it to. I mean, just look at that cover! This book was designed to lure you in with a cover like that! But alas, I feel victim once again to my cover lust.
So, here's my issues with DMD:
1. Pacing- While this novel started off VERY strong, it quickly got boring fast... and slightly confusing. The story seemed to drag on and on, without bothering to really explain certain important plot elements. By the time I was half-way through, I was already wanting it to just be over with.
2. Characters- While our MC, Amy Gumm is pretty rad and awesome, the rest of the stories characters are FLAT and lame. I didn't feel any kind of connection or love for any of the side characters, or their relationship to Amy. Even Dorothy herself was just plain boring. And don't even get me started on the love interest, Nox (I could seriously punch myself in the face trying to get through reading scenes with him).
3. Immature writing, but with adult language- This was the real kicker for me. The story read for a young audience (think 14 and younger), but it felt like the author changed her mind by dropping the F-Bomb randomly throughout the story to "adult it up", which just came off as silly.
Bottom Line:
I won't be recommending this one.
My Rating: 2/5 Stars