1. Adore starring Robin Wright and Naomi Watts. Browsing through My (very long) List on Netflix, I found this little gem. It's bizarre, passionate, and pretty intense. I love the chemistry between all the characters, not to mention the absolute beauty of the actors. I hope I age as prettily as The Princess Bride.
2. Just One Day by Gayle Forman. I really *loved* this story. Gayle Forman has a wonderful knack for putting you in the shoes of her characters, making it impossible to leave them alone. Of course, in true Forman fashion we do get a sort of "non-ending" in this book (similar to that of If I Stay). So if you like absolute, door-slamming closure, you may want to skip this one. But you'd be missing out.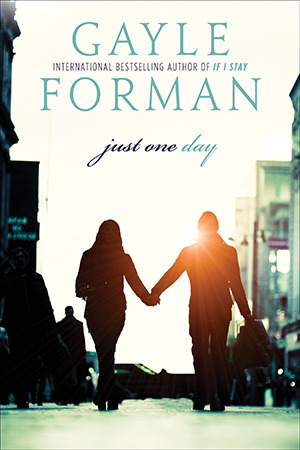 3. My new do. I'm not going to lie, this is a love/hate relationship depending on my mood. One minute I'm almost in tears over my long hair, the next I'm rejoicing over how easy and fun it is. It doesn't hurt that the hubs loves it and compliments me on it all the time. And the fact that I just whacked off all my hair does make me feel a little bit more brave. Of course, having River made me feel like a boss, so apparently I just think I'm a badass now ;) ...still don't do upside down coasters though.

4. The Pandora station called "The Mozart Effect (Children's) Radio". It plays tons of (mostly classic rock) cover songs, but with a classical twist. Boo and I listen to it often while she plays on her play mat.
5. This picture. We both just look like a two adorable (on her part) goons.
6.
This Article
on Buffy.Seriously, number eighteen. Oz & Willow. But I pretty much teared up all the way through it.
7. That new Netflix show called Between. Could Netflix be any cooler?
8. The moment the hubs humored me and danced with me last Saturday to "In My Life" by the Beatles because it's one of my all time favorite songs. It was a little awkward considering he's a 6'2 giant while I'm just 5'2, but super sweet because I had wanted it to be the song we danced to at OUR wedding, but was unable to because (a) I forgot the music and (b) our reception "hall" was way too small to dance in.
9. And finally, the fact that River has quite possibly got the hang of sleeping through the entire night! I mean, she still tries to wake up at 5:00 am, but me and her pacifier shut that down pretty quick... at least until 6:30.