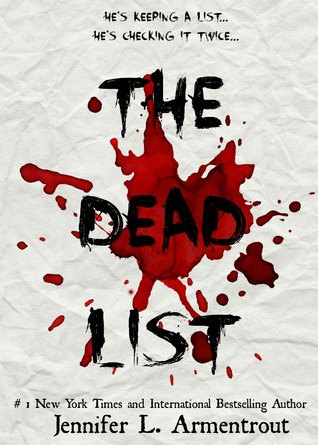 Genre:
YA Thriller/ Mystery
Format:
Wattpad
Publication:
April 15, 2015 by JLA
Cover Rating:
4/5 Stars
My Thoughts:
The Dead List
is a precious gift from the Awesome One (also known as Jennifer L. Armentrout or JLA) to all of her fans. It was published a few months ago on the site Wattpad and it's FREE for however long the Awesome One so feels inclined for it to be.
But for real, on to the review. I'm a huge JLA Fangirl (in case you couldn't tell) and there's a reason for that. She cranks out novels like nobody's business and they
never
disappoint. They're always good and delicious and leave you wanting more.
The Dead List
is no different.
Meet Ella: She's your average high-school girl, who's just trying to move on with her life after a mutual break up with her boyfriend/ best-friend. But someone doesn't want Ella to move on. Someone knows about Ella's tragic past, and they're not about to let her forget. After narrowly escaping an attack herself, Ella watches on the sidelines as her peers start to disappear, only to show up dead later. But then she starts to notice a trend. Something... or someone actually, connects them all. Someone who Ella failed when she was young and naive. And now someone out there wants revenge on all of those involved.
Here's the thing: If you like those 90's campy pyscho killer horror flicks (like
Scream
), you will
love
The Dead List
. Of course, there's great character development and the plot has plenty of twists and turns, but what I really loved was the nostalgia of it. It's no secret that I love cheesed horror films and the 90's, so this was like getting a Godivia Chocolate Cheese Cake (because they're boss) AND a glass of your favorite wine!
Bottom Line:
I would definitely recommend this book, and I would also tell you to read it ASAP. Because while JLA hasn't mentioned taking it off Wattpad anytime soon, why would you wait and chance it?
My Rating: 4/5 Stars