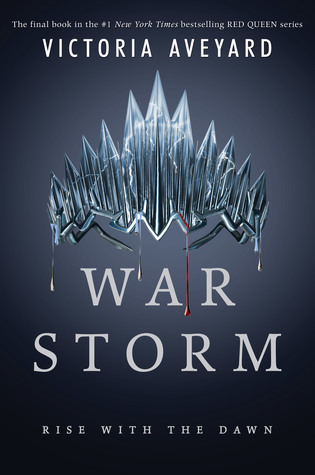 Series:
Red Queen #4
Genre:
YA Dystopia
Format:
Hardback
Publication:
May 2018
Cover Rating:
5/5 Stars
From Goodreads:
Mare Barrow learned this all too well when Cal's betrayal nearly destroyed her. Now determined to protect her heart—and secure freedom for Reds and newbloods like her—Mare resolves to overthrow the kingdom of Norta once and for all… starting with the crown on Maven's head.
But no battle is won alone, and before the Reds may rise as one, Mare must side with the boy who broke her heart in order to defeat the boy who almost broke her. Cal's powerful Silver allies, alongside Mare and the Scarlet Guard, prove a formidable force. But Maven is driven by an obsession so deep, he will stop at nothing to have Mare as his own again, even if it means demolishing everything—and everyone—in his path.
e
War is coming, and all Mare has fought for hangs in the balance. Will victory be enough to topple the Silver kingdoms? Or will the little lightning girl be forever silenced?
In the epic conclusion to Victoria Aveyard's stunning series, Mare must embrace her fate and summon all her power… for all will be tested, but not all will survive.
My Thoughts:
This is hard to say, so I'm just going to come right out and say it: For me, the final book in the
Red Queen
series was just... meh. It wasn't terrible, but it wasn't good either.
Red Queen
was simply amazing. The world building, the plot, the characters and their chemistry... not to mention that WTF moment at the end of the book. It was all it was hyped up to be plus more. However as the series went on each book got less and less amazing for me. I stuck with it simply because I fell in love with these characters in the first book. So by the time
War Storm
came out, I was ready for it to be over. I just wanted to know what happened in the end to Mare, Cal, and Maven. I also didn't really feel like it should have been a 600 + page novel. It definitely had that dragged out feel. It was the end that really got to me though. I wasn't satisfied with it, and I wasn't happy about how things were left with Mare, Cal, and Maven. I'm not going to get into the spoilery parts, but I just wasn't happy about it.
Bottom Line
: In the end I am glad I read I this series. I loved the characters so much and I can tell the author really took the time to plot her books. But I wouldn't have read another book in the series if this one wasn't the last. I definitely feel like the whole series could have been condensed into three books.
My Rating: 2/5 Stars