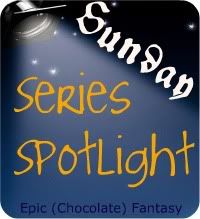 My friend Kate over at
Epic (Chocolate) Fantasy
is hosting "Series Spotlight". There have been tons of great books I have read, before starting this blog or even joining GoodReads, that I'm just dying to share with everyone else!
This Sunday's Series Spotlight is...
Succubus Blues by Richelle Mead
(Book 1 in the Georgina Kincaid series)
Georgina Kincaid is Seattle's own immortal succubus. She can changer her appearance at will, steal the souls of mortal men, play poker with her immortal friends (two vampires, an imp, an arch angel, and her demon boss who strikingly resembles John Cusack) and manage a bookstore where she can get all the free books and white chocolate mocha's she wants. Oh, and of course the chance to ogle famous writer Seth Mortensen. It's all in a days work for Georgina. Except something has come up in the demon world of Seattle. Something the has not only her demon boss agitated, but also the angles as well. What do heaven and hell have in common that they both hate so much? Georgina is about to find out.
Richelle Mead is best known for her YA series,
Vampire Academy
, but Georgina's life is just as interesting. I fell in love with this series when I first started reading it, and it was really what made me such a huge Richelle Mead fan. Georgina, despite being a succubus, is so relateable and funny.Not to mention, there's plenty of interesting scenes with hottie writer, Seth, and Georgina's smoldering dance partner, Roman.Georgina's life isn't easy, and her love life even less so. This is one series that will keep you on your toes until the very end.