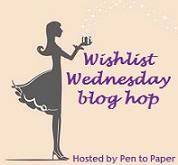 Wishlist Wednesday is a book blog hop, hosted by Pen to Paper, where we will post about one book per week that has been on our wishlist for some time, or just added (it's entirely up to you), that we can't wait to get off the wishlist and onto our wonderful shelves.
From Goodreads:
Six months have passed since the terrifying battle with Charlie Pink-eye and the Motor City Hammer in the zombie-infested mountains of the Rot & Ruin. It's also six months since Benny Imura and Nix Riley saw something in the air that changed their lives. Now, after months of rigorous training with Benny's zombie-hunter brother Tom, Benny and Nix are ready to leave their home forever and search for a better future. Lilah the Lost Girl and Benny's best friend Lou Chong are going with them.
Sounds easy. Sounds wonderful. Except that everything that can go wrong does. Before they can even leave there is a shocking zombie attack in town. But as soon as they step into the Rot & Ruin they are pursued by the living dead, wild animals, insane murderers and the horrors of Gameland –where teenagers are forced to fight for their lives in the zombie pits. Worst of all…could the evil Charlie Pink-eye still be alive?
In the great Rot & Ruin everything wants to kill you. Everything…and not everyone in Benny's small band of travelers will make it out alive.
Why I Want It:
I'm reading the first book to this series right now, and let me just say, it's AMAZING. Seriously, epic. I'm trying my hardest NOT to buy this right now though because I'm on a budget and my power bill is outrageous (but really, who actually NEEDS power?!) And I mean, just look at this cover, it's fantastic! *le sigh* If I don't break down and get it this week, I will definitely be buying it next week!
Thanks for stopping by! Make sure to leave a link back to your own post! And if you follow, make sure to tell me how so I can follow back in the same ways!