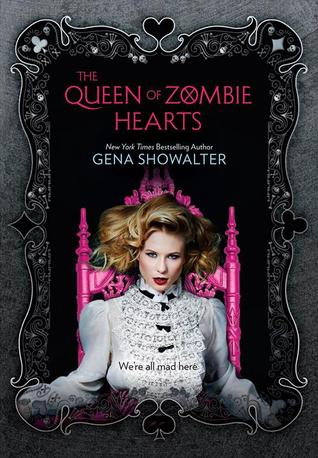 Series:
White
Rabbit Chronicles #3
Genre:
YA Paranormal Romance
Format:
Kindle
Publication:
September 30, 2014 by Harlequin Teen
Cover Rating:
3/5 Stars
Links:
Goodreads
,
Amazon
,
Book Depo
,
B&N
,
White Rabbit Chronicles Website
From Goodreads:
I have a plan.
We'll either destroy them for good, or they'll destroy us.
Either way, only one of us is walking away.
In the stunning conclusion to the wildly popular White Rabbit Chronicles, Alice "Ali" Bell thinks the worst is behind her. She's ready to take the next step with boyfriend Cole Holland, the leader of the zombie slayers…until Anima Industries, the agency controlling the zombies, launches a sneak attack, killing four of her friends. It's then she realizes that humans can be more dangerous than monsters…and the worst has only begun.
As the surviving slayers prepare for war, Ali discovers she, too, can control the zombies…and she isn't the girl she thought she was. She's connected to the woman responsible for killing—and turning—Cole's mother. How can their relationship endure? As secrets come to light, and more slayers are taken or killed, Ali will fight harder than ever to bring down Anima—even sacrificing her own life for those she loves.
My Thoughts:
Loved, loved, loved it!!! Such a great ending to a fantastic series! Just like her main-character Ali Bell, Gena Showalter is not afraid to take risks, and it totally pays off!
In this final installment of
The White Rabbit Chronicles
everything comes together with Anima, the zombies/slayers, and the Cole/Ali relationship. We also get some plot curve balls as Ali's past history comes back in a big way and leaves us reeling. Oh, and we get introduced to a whole new group of slayers, that just happen to be led by Cole's "rival", River (awesome name if I do say so myself). Ali comes into herself and becomes a complete bad-ass who doesn't take crap from anyone- including Hot Book Boyfriend Cole- moving up as one of my new favorite heroines. But as with all great endings, we do get some major loss! Not everyone gets a happily ever after and there will be tears and anguish. But you can't have a fantastic series without a little bit of sadness thrown in. The good thing is though, that Ali's story does get wrapped up. There's no loose ends with her, and I was very satisfied with the ending. However, I would absolutely love it if Showalter created another series with some of the other slayers!
Bottom Line:
I would definitely recommend this series to anyone who loves good YA paranormal romance, zombies, or retelling of fairy-tales!
My Rating: 4/5 Stars
Extras: