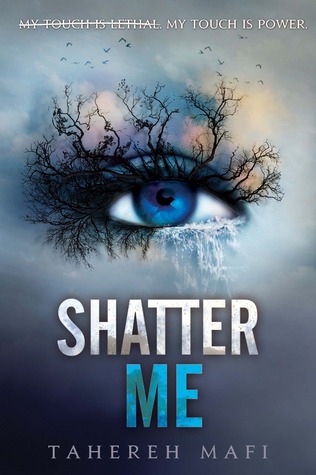 Series:
Shatter Me #1
Genre:
YA Dystopia
Format:
Kindle
Publication:
Harper Collins 2012
Cover Rating:
5/5 Stars
Links: Goodreads, Amazon, B&N, Book Depo
From Goodreads:
Juliette hasn't touched anyone in exactly 264 days.
The last time she did, it was an accident, but The Reestablishment locked her up for murder. No one knows why Juliette's touch is fatal. As long as she doesn't hurt anyone else, no one really cares. The world is too busy crumbling to pieces to pay attention to a 17-year-old girl. Diseases are destroying the population, food is hard to find, birds don't fly anymore, and the clouds are the wrong color.
The Reestablishment said their way was the only way to fix things, so they threw Juliette in a cell. Now so many people are dead that the survivors are whispering war – and The Reestablishment has changed its mind. Maybe Juliette is more than a tortured soul stuffed into a poisonous body. Maybe she's exactly what they need right now.
Juliette has to make a choice: Be a weapon. Or be a warrior.
My Thoughts:
AMAZING! Why did I not read this book sooner?! I have been missing out! Shame on my book friends for not biting my head off and forcing me to read this! Seriously though,
Shatter Me
was epically awesome and everything you could ever want out of a book. From the first page, I was instantly hooked. Tahereh Mafi has a beautiful way with words that just proves YA reading is not the guilty pleasure some people make out to be. The plot, the characters, the chemistry... it was all just so perfect! Not to mention one fantastic heroine that will stay with you even after the story has ended.
Bottom Line:
Go out now and just buy the whole hard-cover box set because I can already tell it's going to be worth it!
My Rating:
5/5 Stars