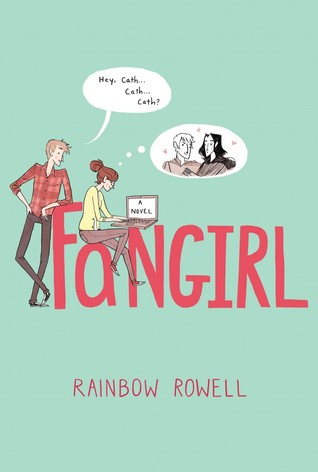 Genre:
YA/ Coming of Age
Format:
Kindle
Publication:
September 10, 2013 by St. Martin's Press
Cover Rating:
5/5 Stars
From Goodreads: Cath is a Simon Snow fan.
Okay, the whole world is a Simon Snow fan...
But for Cath, being a fan is her life—and she's really good at it. She and her twin sister, Wren, ensconced themselves in the Simon Snow series when they were just kids; it's what got them through their mother leaving.
Reading. Rereading. Hanging out in Simon Snow forums, writing Simon Snow fan fiction, dressing up like the characters for every movie premiere.
Cath's sister has mostly grown away from fandom, but Cath can't let go. She doesn't want to.
Now that they're going to college, Wren has told Cath she doesn't want to be roommates. Cath is on her own, completely outside of her comfort zone. She's got a surly roommate with a charming, always-around boyfriend, a fiction-writing professor who thinks fan fiction is the end of the civilized world, a handsome classmate who only wants to talk about words... And she can't stop worrying about her dad, who's loving and fragile and has never really been alone.
For Cath, the question is: Can she do this?
Can she make it without Wren holding her hand? Is she ready to start living her own life? Writing her own stories?
And does she even want to move on if it means leaving Simon Snow behind?
My Thoughts:
First off, can I just declare my love for Rainbow Rowell for a second? Not only does she have one of the coolest names ever (and this coming from me- Sonnie Rainey), but the lady can write some of the most emotionally gripping stories ever. I feel like if her and John Green came together and wrote a story, it would leave us all emotionally crippled for life. FOR LIFE. I just want them to by my Aunt and Uncle. Aunt Rainbow and Uncle John. I would have went to them with all my teenage/ new adult angst and they would have understood and made it better. Because they're Rainbow Rowell and John Green and they get it.
Okay, moving on.
Fangirl
has been sitting on my Kindle for ages because I was just
so
sure that it couldn't live up to the phenomenal
Eleanor and Park
. But finally, I decided that enough time had passed that if it didn't live up to my high expectations I wouldn't be too terribly disappointed. Well, I'm here to tell you I was wrong. I was so flippin' wrong. It was amazing. SO AMAZING. I instantly fell in love with Cath. I AM Cath. Okay, no, I'm not. I don't write fanfiction, but I just got her, you know? She was so relatable. She was me as a Freshman in college, where everything is new and big and so so scary- even the damn cafeteria is scary. And Rainbow Rowell captured all of it perfectly.
And if that's not enough, you even get a story inside of a story. So, while Cath is experiencing college, we also get these awesome, coinciding snipets of a Harry Potter-isk novel called
Simon Snow and the....
It's a fantasy series that has been a huge part of Cath's adolescent life, and one that she has recreated in her fanfiction called
Carry On, Simon
. I think you have to be pretty talented to write a novel inside of another novel and keep the readers attention at the same time. But Rowell does it. Because she's amazing. She captures the whole art of fangirling while at the same time creating a whole NEW fandom! Because this whole time that sneaky little woman was writing a novel called... wait for it...
CARRY ON
about SIMON SNOW. It comes out this week. WTF. Mind blown
Bottom Line:
Just go by all of Rainbow Rowells books. Now. Go now.
My Rating: 5/5 Stars