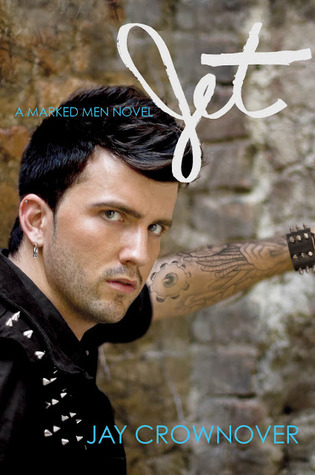 Series:
Marked Men #2
Genre:
New Adult
Format:
Kindle
Publication:
May 28, 2013 by William Morrow Paperbacks
Cover Rating:
1/5 Stars
Links:
Goodreads
,
Amazon
,
Kobo
From Goodreads:
With his tight leather pants and a sharp edge that makes him dangerous, Jet Keller is every girl's rock and roll fantasy. But Ayden Cross is done walking on the wild side with bad boys. She doesn't want to give in to the heat she sees in Jet's dark, haunted eyes. She's afraid of getting burned from the sparks of their spontaneous combustion, even as his touch sets her on fire.
Jet can't resist the Southern Belle with mile-long legs in cowboy boots who defies his every expectation. Yet the closer he feels to Ayden, the less he seems to know her. While he's tempted to get under her skin and undo her in every way, he knows firsthand what happens to two people with very different ideas about relationships.
Will the blaze burn into an enduring love. . . or will it consume their dreams and turn them to ashes?
My Thoughts:
I first read Jay Crownover's debut novel
Rule
(Marked Men #1) when it first came out and just feel completely in love with it. I loved Rule, I loved Crownover's writing style, and I loved the chemistry between the two main characters. For some reason though, I waited forever to read
Jet
. Maybe it had to do with the fact that I didn't really care for Jet or Ayden as characters when I first read about him in
Rule
, or maybe it had to do with the fact that I just really hate this cover (seriously, this model reminds me of a creeper). Regardless, I had some reservations about reading it.
I wish I could say that I was wrong and that I loved
Jet
as much as I loved
Rule
, but just like with real guys, this was not the case. Crownover's writing is still excellent and interesting, the plot was wonderfully done and kept me turning the pages... but I just didn't care for either of the main characters. I didn't feel connected to them like I did with Rule and Shaw and I felt a bit cheated in the romance department with them. There was more of an "insta-love" feel for me with these two, and I still felt confused as to why they connected with each other in the first place.
Bottom Line:
I would still recommend this book, despite my own misgivings about it, but I would definitely recommend
Rule
first and foremost. I think my issue had more to do with the fact that I just didn't like the main characters more than anything, so I would hate to rob someone else of a Jet Fangirl Moment, even if I didn't feel it. And I will still absolutely continue with the next Marked Men novel, because hey, I'm still a Jay Crownover fangirl.
My Rating:
3/5 Stars