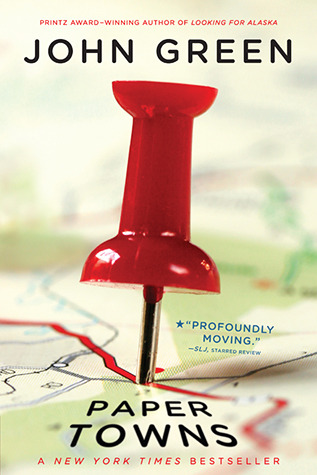 Genre:
YA
Publication:
2009 by SPEAK
Format:
Paperback; 305 pages
Cover Rating:
4/5 Stars
Links:
Goodreads
,
Amazon
,
Book Depo
From Goodreads: Who is the real Margo?
Quentin Jacobsen has spent a lifetime loving the magnificently adventurous Margo Roth Spiegelman from afar. So when she cracks open a window and climbs into his life—dressed like a ninja and summoning him for an ingenious campaign of revenge—he follows. After their all-nighter ends, and a new day breaks, Q arrives at school to discover that Margo, always an enigma, has now become a mystery. But Q soon learns that there are clues—and they're for him. Urged down a disconnected path, the closer he gets, the less Q sees the girl he thought he knew...
My Thoughts:
Oh, John Green, will you ever write anything that I
don't
like? No? Didn't think so.
Paper Towns
is an excellent coming of age story with tons of life lessons, humor, and mystery weaved into it. Simply put, if you liked
Looking for Alaska
, then you will enjoy
Paper Towns
.
But I do have some small issues with it. First of all, this was my least favorite John Green book. Did that mean it sucked? No freaking way. It
is
a John Green book after all, and anything that man writes I will gladly devour. So, no it didn't suck, but it also didn't hold the same intensity that
Looking for Alaska
and
The Fault in Our Stars
held for me.
Second, I do have to agree with some of the other reviewers. there are some similarities to Alaska/ Margo and Miles/Q. But they're by far not the
same
characters... just the same formula. Which yeah, is a bit disappointing, but doesn't really take anything away from the story itself.
Bottom Line:
I would recommend this book only after
Looking for Alaska
and
The Fault in Our Stars
. If you've read both and are looking for something to cure your John Green book hang-over then definitely pick this one up. Otherwise, start with the other two.
My Rating:
3.5 Stars